Europa is once-again offering HAIR EXTENSION SERVICES, and we couldn't be more excited about it!  We saw a lot of sad faces when we "pulled" hair extensions from the list of services we offered several months ago; but think of it as a re-formulation of your favorite product — we took some time to reevaluate what we were offering, and are now able to bring Hair Extensions back to Europa, and they're better than ever!  The new system we're using, plus the education our Professional Extensions Stylists had the opportunity to receive, has made this service re-launch well worth the wait.
We are now offering a variety of PerfecTress Hair Extensions to create length, volume, texture, and dimension, with 100% Remy Hair extensions.  Extensions can be ordered to color-match your own hair, or to create a unique look;  or Extensions can be ordered as "virgin" hair, able to be colored by your Salon Professional to match your own natural hair, and your personal style!  A thorough consultation with one of Europa's Extensions Professionals –Heather P. or Kim M.– is required prior to scheduling your service, to ensure we have the opportunity to customize your look by placing an extensions order, just for you.
PerfecTress "Transformation Connections" extensions can be used to add length and volume, and to create texture and highlights. These extensions are applied with an innovative clamping system, designed specifically to prevent damage to your own natural hair, both during application and removal!  Connections extensions are available in 14?, 18?, and 22? lengths with a variety of textures to match your look.  (Transformation Connections are pictured above, and below, on our stylist Heather.)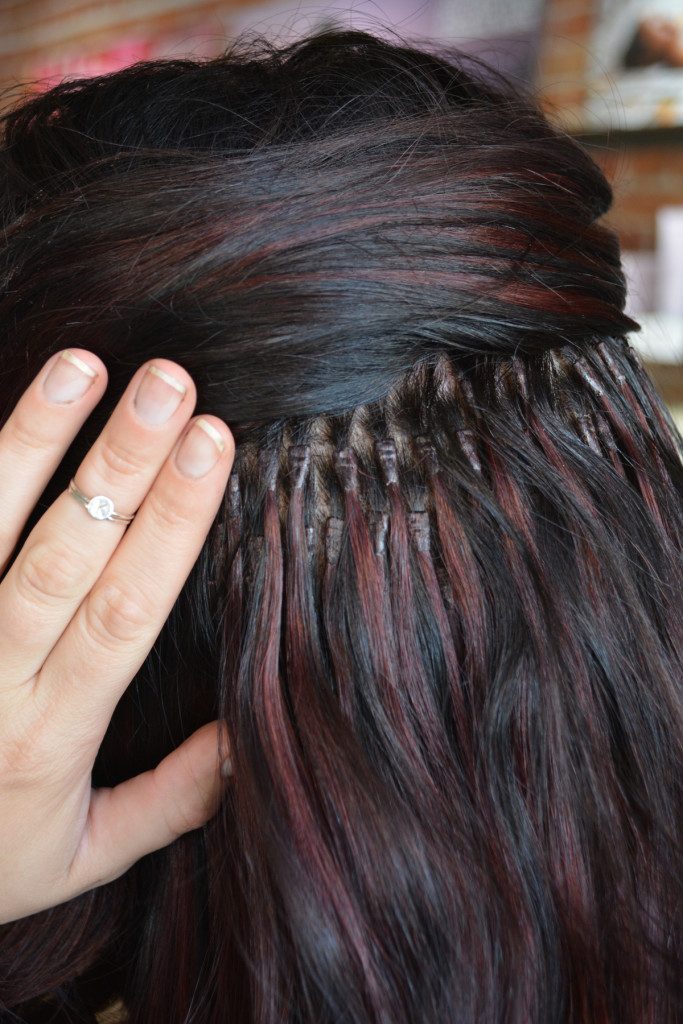 PerfecTress "Tape Weft" extensions can be used to add length, volume, and highlights as desired.  Tape Wefts are similar to other tape-in extensions — they will bond solidly to your natural hair, last a minimum of 8 weeks with each application, and can be re-used up to 4 times!  The difference is, PerfecTress guarantees a clean application and removal of these tape adhesive extensions, ensuring no tape –or tape residue– will be left behind on your own natural hair during removal or re-application.  Connections extensions are available in 14?, 18?, and 22? lengths with a variety of textures to match your look.
I hope you're as excited about this as we are!  For more information about Extensions, or to order hair for your own Extensions Application, please CALL the salon to set up your always free Consultation.  970-407-8223.
And be sure to check out our "Special Offers" tab on the website, to find a fantastic deal on the new-and-improved Hair Extensions offered at Europa.  (Hint: It's $150-$300 OFF your first-time Hair Extensions application!  You'll still want to check out the Special Offers section to read the details; and be sure to mention the special offer you saw on the website so that we know to give you the discount.)